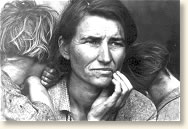 The Great Depression
Photo by Dorothea Lange

Looking for books, videos...
Use "Anywhere" for keyword searching, OR
Use the Drop Down Menu to select "Title" or "Author" searching.
Gale Virtual Reference Library
The Great Depression: Reference Databases

ABC-CLIO
Provides access to historical information in American and World History, Popular Culture, and Military History.


African American Studies Center
Provides an authoritative and comprehensive source on the African American experience, comprised of five major encyclopedias from Oxford UniversityPress.



American National Biography Online
Offers portraits of more than 17,400 men and women from all eras and walks of life, whose lives have shaped the nation.


Facts on File
Provides access to African-American History Online, American History Online, American Women's History Online as well as Classroom Video on Demand.

Salem History
Provides online access to Milestone Documents in American History, a primary source resource; Great Events from History; and Salem's Decades series for the 1920s to the 2000s.

The Great Depression: Internet Resources